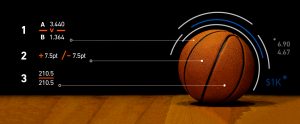 Besides the thrill of the game itself, basketball is a playground for punters. This game has been in existence for the last century and is now highly regarded by most bookmakers and punters. Luck has its place in basketball betting, but understanding the rules, and types of bets, are vital to improving your chances of growing your bankroll.
Basketball Bet Types
Basketball is a dynamic game that offers sports bettors an exciting opportunity to make real cash. Here are some common types of basketball bets.
Money Line Bets
Money line markets are the simplest basketball bets to understand. Here, the team with the lower money line odds is believed to have higher chances of winning, than the one with more significant odds. The winning amount is arrived at, by multiplying the bet amount with the odds.
Handicap Basketball Bets
Handicap bets are all about adding points to the weaker team or deducting a similar number of points, from the stronger side. This is often done to level the playing field or balance an alleged bias to even the playing field. The handicap number, often replaced as either a +ve or –ve value, is factored in to determine the 'outcome.'
Totals Betting
Total basketball betting requires the player to bet a combined value of the maximum points scored. For instance, an 'over bet' of over 210.5 points, means that the total points scored in the game should be 211 or more. Anything below this value is known as the 'under bet.' Over bets are only awarded the win, if the points of the total game exceed the value of the stake, and the respective odds are multiplied by the wagered amount.
Despite these basic forms of basketball bets, there are a lot more advanced betting options. Besides the thrill and opportunity to make some money, understanding the rules, and finding a reputable bookmaker is vital.